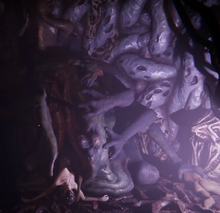 The Enthralled are the living toys for the pleasure of the Changed in the extra-dimensional realm of Lusst'ghaa. They have been surgically altered to not be able to feel anything. This procedure was forcibly done on the enemies of the Lustful God, after the Caste of the Omniscient lost the war.
Appearance
[
]
The appearance of the Enthralled vary greatly, possibly due to the unpredictable nature of mutation. But they all serve the same purpose: to pleasure the Changed. A face can sometimes be found on these bloated, mutated masses. Some have long legs and hands; others seem entirely immobile.
The Enthralled encountered throughout Lusst'ghaa will more-or-less ignore Victor; as Amanda puts it, "the most they can do is drool on you." The Enthralled Corrupted by Ghar'ne, however, will follow Victor if he has Essence and will attack him.