This cultist wore a mask with an elaborate red top. She was chatting to a cultist with a white split mask in the grounds of Yelverton Manor.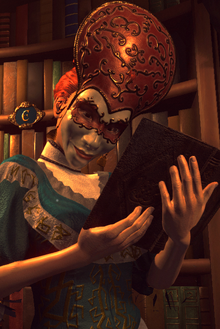 Later, she was found reading a book in the library.
Some time later, she was spotted talking with the cultist with the black beard mask. The two were discussing word from Sabinian, who said that the cultists entering Lusst'ghaa were dead. The two, doubting Willard's leadership, decided to flee the Manor.