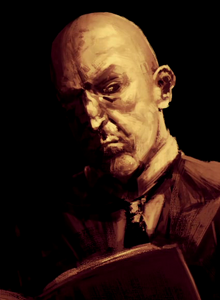 Benedict Yelverton (born September 1, 1885, in Philadelphia) was the son of Harriet Yelverton and Milton Yelverton. He inherited both their fortune and his father's notes. By 1921 he had become fascinated with his mother's vision of Lusst'ghaa and wanted a conjunction of that world and ours.
Using the plans written down by his father, Benedict created Yelverton Manor, which was finished by 1925. The building's design was to aid in the conjunction of our world and Lusst'ghaa. However, he also needed a sacrifice, the child of a Seeing. To find such a candidate he became aquainted with Professor Doreen Austerlitz, sharing with her his father's journal. She shared the knowledge of Lusst'ghaa with fellow academics and later figures of business and poltiics. The assembled a group of rich occultists formed the Cult of Ecstasy.
The Cult proved unable to find a Seeing, but soon discovered that Benedict himself (child of Harriet Yelverton, herself a Seeing) would be perfect. By 1929, Benedict had grown to despise the Cult of Ecstasy and was content to let Doreen Austerlitz lead them. When she moved against him, he decided to thwart them by committing suicide. His heart was later removed from his body and put on display as a warning for the Cult.
After his death, one of the servants at Yelverton Manor gave birth to Benedict's son, Willard Yelverton.